Our global corporate philosophy

Our global corporate philosophy

Ricoh Way is a common approach to all entities of the Ricoh Group. It provides the framework and identity for our organization, is based on the shared Mission, Vision and Values and above all on the Founding Principles of the Group, the tree Loves precept: "Love your neighbour; Love your country; Love your work", formulated in 1946 by our founder, Kiyoshi ICHIMURA.

The Founding Principles encourage us to constantly improve and contribute to the wellbeing of all stakeholders, including our families, customers and society as a whole.
Moreover, our Values must provide a new business agility allowing a fast deployment of the Group's strategy.

Engrained in our culture is to always put the customer first and deliver an exceptional customer experience in all areas of our business.

We are committed to delivering services and products that improve our customer quality of life. We are also driven to fulfill our responsibilities to create a sustainable society and to continue to provide innovative solutions that bring value and inspiration to our customers every day.

By adhering to our management philosophy we remain true to social and environmental sustainability and our responsibility to future generations.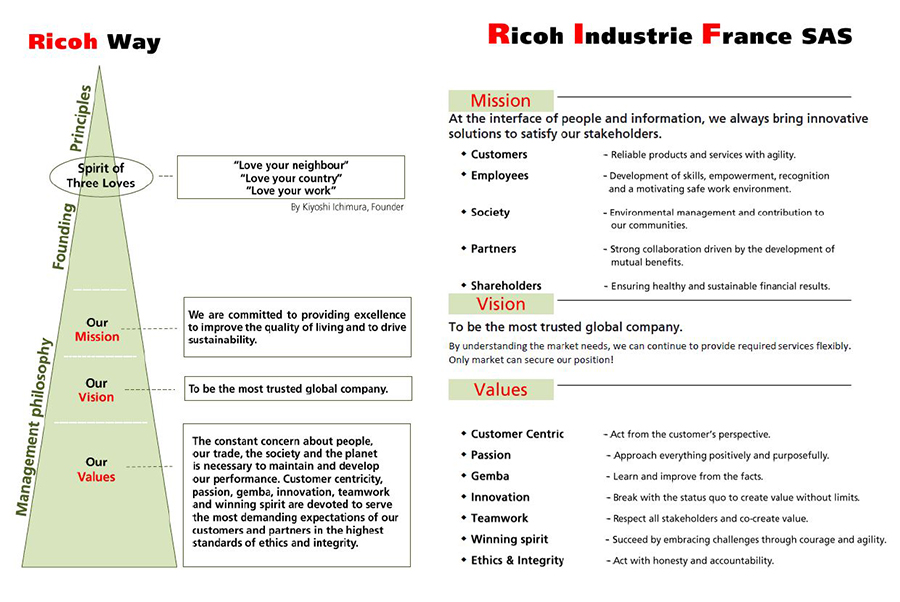 The Ricoh Group's commitment is to embody these Values through daily behaviours that help the deep transformations of our company.