The sustainable development approach at the heart of RIF's strategy
Limiting energy consumptions and contributing to the fight against global warming

Ricoh Industrie France is actively involved in the Group's efforts to achieve its goals in the prevention of global warming by the control of its CO2 emissions and its commitment to energy savings.

Even if a permanent work is conducted on the optimisation of freight transport upstream and downstream of the site, RIF is acting in priority on the following main categories of consumption: gas and electricity, mainly used in the thermal paper coating workshop.
We have been working on both main consumption functions gaz and electricity that are largely used for our thermal papers coating workshop.
| | | | |
| --- | --- | --- | --- |
|   | RIF consumption |             | CO2 emissions' reduction for thermal paper activities |
|                         | |   | |
Our energy performance is very dependent not only on the time optimising, the operation mode, the supply contract follow-up, the quality and the maintenance of burners and electric motors but also on the innovation research in terms of process control.
Today, renewable energies are more than ever fully integrated in our discussions and especially green energy sources to meet the Ricoh Group's challenging goals.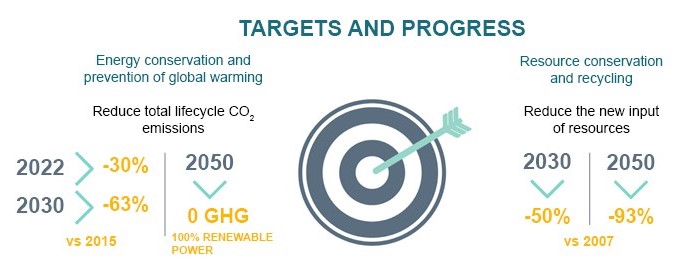 Our use of renewable electricity has already increased from 21% to 30% (green electricity purchasing) and we are discussing about the production sources of renewable electricity in our site in Wettolsheim (with a photovoltaic project under study).
Our reduction goals of our ecological footprint are driving us to optimize our process through:

- the installation of fatal heat collector,
- the optimized use of the discharged air volume for the dryers of our coating machine,
- the integration of our energy optimization notions and the conservation of our environment in our research and development
- the installation of optimized air conditioning system in terms of energetic performance and ecological footprint.
We base our energy management approach on the certified ISO 50001 practices with established rules regarding sustainable development goals.

We develop a constructive partnership with our energy suppliers, share our approach with them as well as our concerns so that they deliver energies in accordance with our requirements specification.
Reduce business travel and its impact
-    Awareness-raising sessions to responsible driving organised by RIF
-    Incentive to car sharing, bike and public transport
-    Use of video-conferencing instead of business travel

 Improve supply chain processes to reduce the CO2 emissions
-    Ricoh merely takes for charge for supplies of printing solutions on the European market to be recycled at RIF
-    Means of transport that emit less CO2 are used for our products
Develop new working methods


-    Develop remote working
-    Use innovative technologies made by the Group to reduce printings significantly and to simplify the digital culture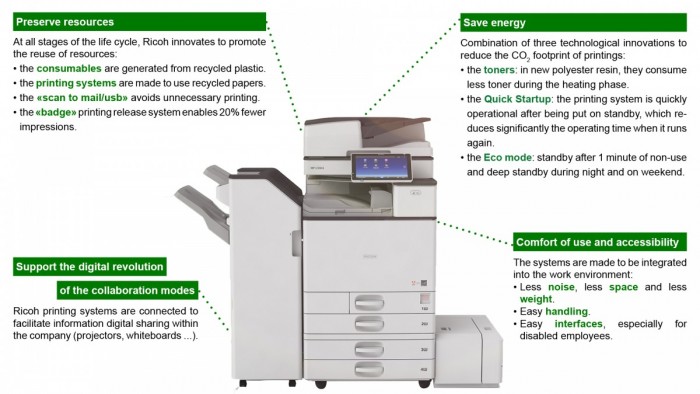 To learn more about the Carbon Balanced Production Printing: here

Preserve resources and develop their recycling
To measure and minimise the use of new resources, we apply a 3R approach – Reduce, Reuse and Recycle – to our products. This approach also helps us reduce our water consumption and the amount of waste generated from our business activities. Our environment protection commitment extends beyond the reduction of our own ecological footprint. We have set specific goals to reduce our waste, water and product footprint. Our engagement of environment's protection goes above our ecological footprint reduction. We are committed to using fewer resources or using and reusing them more efficiently.


The circular economy or the reduction of the global environmental impacts of life cycles

We contribute to realising circular economy by promoting the collection and recycling of used products and the use of recycled resources globally but also by comprehensively reducing the overall environmental impacts of life cycles. Our own circular economy model is based on The Ricoh Comet CircleTM created by Ricoh in 1994.

 
The circular economy is a key component of our strategy for growth in our site.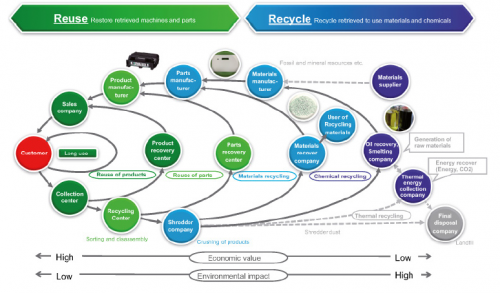 The goal of this economic and social model is to always remain closer to the user, to valuate the material, to avoid the waste landfill and to anticipate reduction right from the production design stage (Eco-conception).
We :  

Reuse products, parts and supplies: Pre-owned component are recovered to start a new life within a Ricoh product.

Learn more about our R&R activities: here

End of life management: the Ricoh Resource Smart Return programme facilitates the easy way of end of life products and used supplies. Visit the website « Ricoh Smart Return »
            

Smaller, lighter parts: many of our latest MFPs are over 65% lighter and smaller than previous models in their class. Our ethos is to use less resources to develop robust devices.

 

 

Recycled material from alternatives sources: biologically reproducible biomass rescources like bio-based plastic and biomass toner form an integral part of our manufacturing process. Our devices are partly made of bio-based plastics and electric furnace steel.


 

 

Resource efficiency built into our products

- High speed duplex: to help save paper, all Ricoh MFPs come with duplex functionality as standart for easy double-sided printing.

- Staple-less finisher: a unique Ricoh MFP feature that allows up to five pages to be bound together without the need for a staple.

Print&Share Eco print driver: hepls reduce paper usage and waste with a single click by eliminating unwanted prints and merging white space to print multiple pages on one sheet.

Recycled and sustainably sourced paper: our office products are all designed to word optimaly with recycled paper and our own paper range comes from sustainably managed forest.





English