Ricoh Way Production System & Continuous Improvement

A strong synergy for growth


The Ricoh Way Production system (RWPS) applies to production units.

The deployment of the RWPS within each production unit is realized through a pooling and harmonization of the operations in all European operational centers.

This approach covers everything related to the definition, implementation and management of processes within the company.

The RWPS relies on structured tools aimed at improving the performance of each site, based on the S E Q C D H criteria (Security & Work Organization – Environment & Social – Quality – Cost – Delivery – Human factor) and is fully detailed in a manual distributed to all Ricoh Industrie France employees. This document serves as a reference for the assimilation of the method.

The S E Q C D H fundamentals are integrated in the proximity management tools and are subject to a dynamic display in the workshops, the closest to the public concerned.
The displayed performance indicators are those for which the employees have one or more levers for action, in order to ensure the support of the greatest number and the involvement of all.

Main targets of the RWPS:
- Integration of the Ricoh Group Values.
- Strengthening of the continuous improvement culture.
- Employees' behaviours and skills adapted to the RWPS.
- Standardization, stabilization and sharing of good practices.
- Sharing the tools for improving the company's performances: SCM, 5S, Kaizen, TPM
Ricoh production Group is committed to sustainable manufacturing based on the Corporate Social Responsibility model (CSR).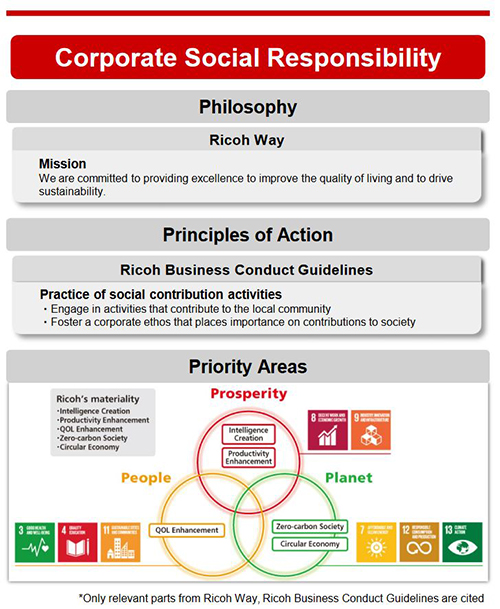 Ricoh Way, Values and RWPS Key Fundamentals : here