Products recovery (reuse)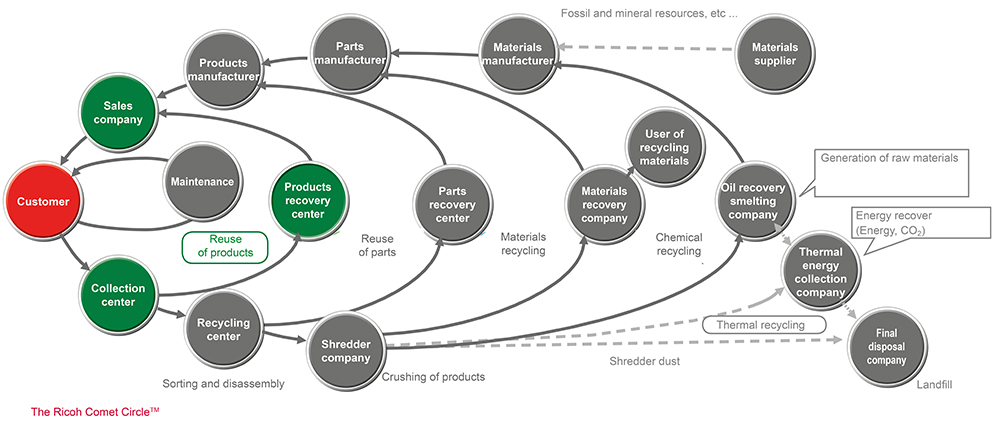 GreenLineTM devices: remanufacturing makes all the difference

Until early 2015, the assembly of some multifunction printers (MFP) was realised on our production lines per module. These devices were sent to Ricoh Europe BV, the configuration and logistics centre in the Netherlands, for finally being dispatched all over Europe.
Today, new horizons are coming up to RIF with its GreenLineTM remanufacturing activity which allows the recirculation of resources, approach firmly encoded in the Ricoh DNA. The MFP devices picked up at Ricoh's customers are collected from the French and the European markets, to be remanufactured later at Ricoh Industrie France which became the European GreenLineTM centre in 2013.

The GreenlineTM offer, as part of the Ricoh Total Green Office Solutions program, allows Ricoh eco-friendly customers to minimise the impact of their multifunction printers while enjoying the best in terms of quality, reliability and productivity.
The RIF rigorous selection and remanufacturing process below allows each GreenlineTM device to get benefit from the same guarantees as a new product. These devices combine economic benefits and promotion of a virtuous circular approach.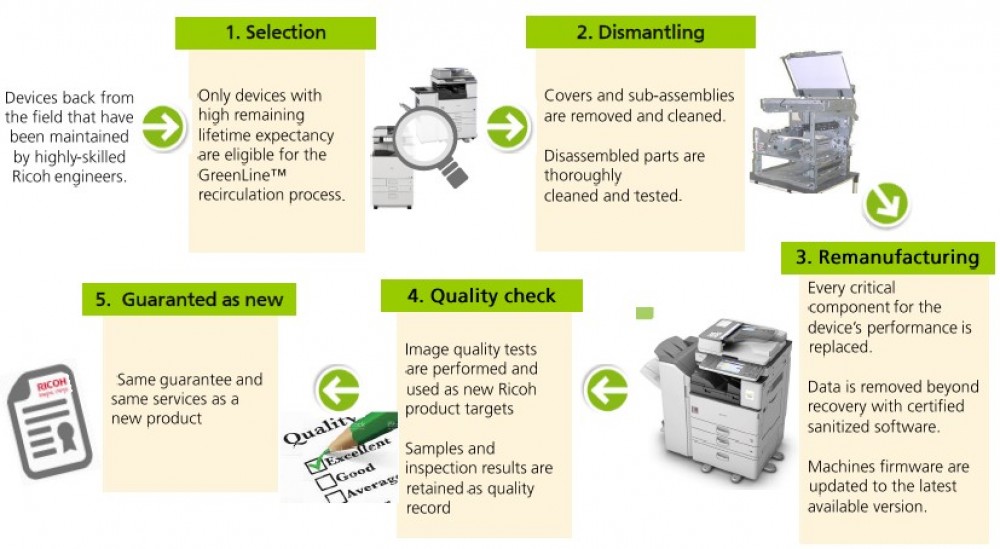 GreenLineTM recirculation printing system supports the environment and works for your budget too
To learn more about the process of deleting confidential data stored in end-of-life copiers: here
New ! Now you can buy online GreenlineTM devices on

Printers repair under Ricoh's warranty

This activity consists in repairing defective printers sold out without any maintenance contract on the European market but receiving a warranty from Ricoh.
Started in July 2018, this repair workshop fully complies with the Ricoh Group's commitments to development of a circular economy by supporting waste reduction through recycling and reuse. No new spare parts are to be purchased for repairing the printers. The spare parts of devices not suitable for the repair process are collected, cleaned and installed into some devices for a second lease of life!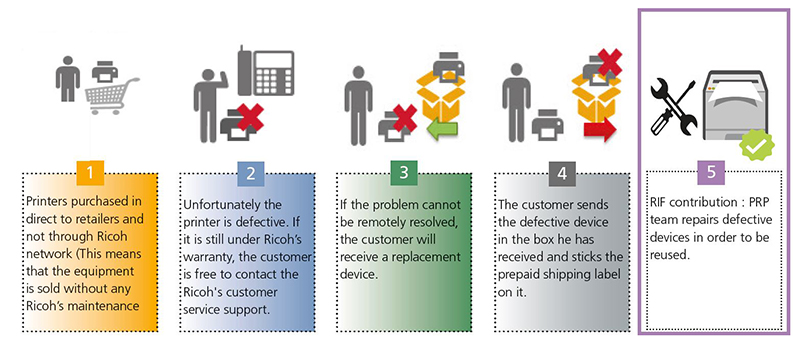 RIF contributes to the United Nations Sustainable Development Goals (SDGs) 7, 12, 13 and 17.

| | |
| --- | --- |
| | Since we use green electricity. |
| | For our responsible production. |
| | |
| --- | --- |
| | Because our activities save C02 emission compared to a new product. |
| | Because we have partnerships throughout Europe for the collection and sale of these products. |