Parts recovery (reuse)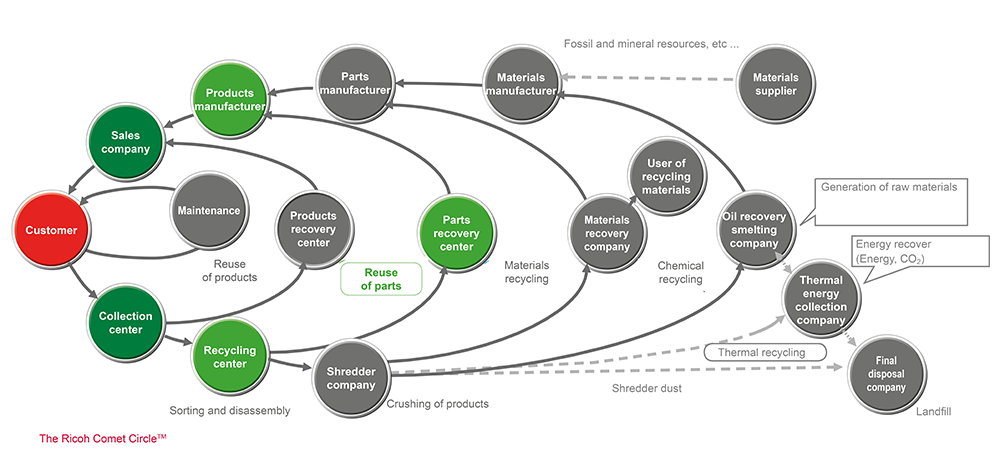 Smart resources
RIF collects the used toner cartridges and printing units from the European market, sorts them out so that they can follow the complete remanufacturing process in accordance with the Ricoh Comet CircleTM concept.
The non-reusable parts follow a material or energy recovery development program. In accordance with the Ricoh "Zero waste to landfill" policy, these used cartridges will be disposed of safely.

To ensure the second life of our consumables and materials, Ricoh deploys a centralised return program for used toner cartridges.This Resource Smart Return service below is available via different channels in most of European countries.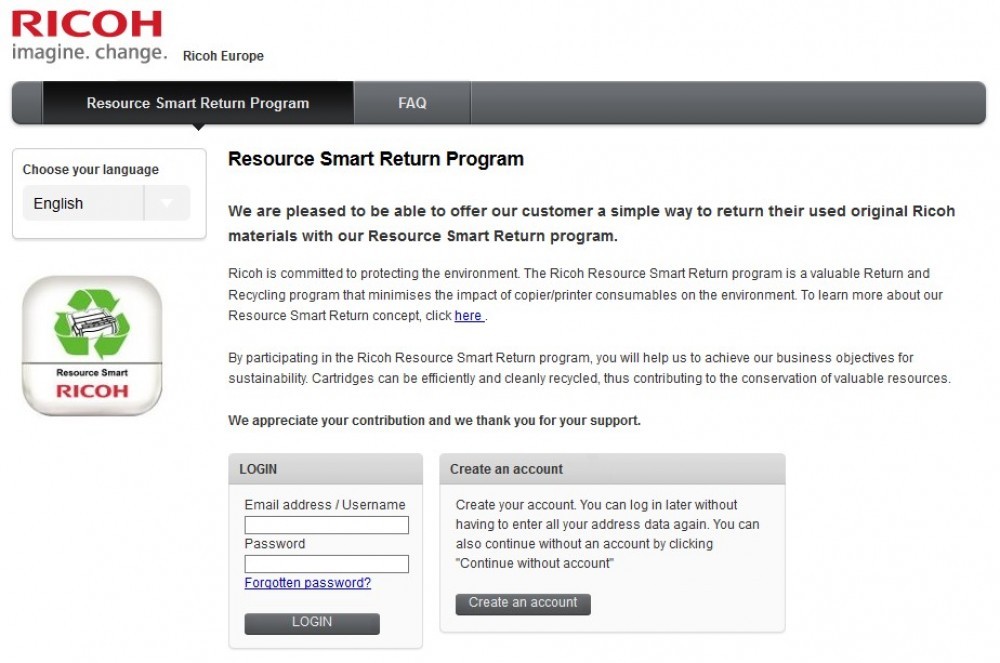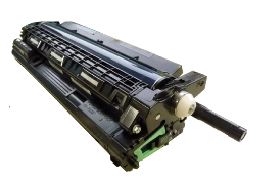 Printed Circuit boards for MFP
The Printed Circuit Board (PCB) is built of different components called "hardware" and related programs called "software". Several printed circuit boards are needed for the running of a multifunction printer (MFP).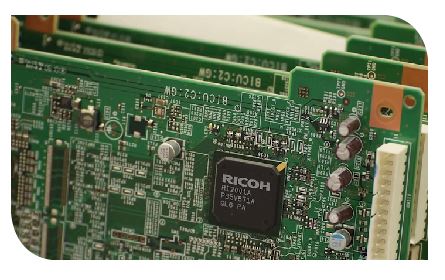 RIF is in charge of repairing and recycling printed circuit boards collected from the European market since 1997. It deals with more than 400 different references today.
When arriving on our site, these parts are:
- sorted out according to criteria set in advance,
- tested in accordance with Ricoh Group standards,
- repaired recycled and/or updated,
- registered to guarantee the traceability.
After being repaired or recycled, the printed circuit boards are sent to ESPC, the Ricoh European spare parts centre in the Netherlands for resale on the European market.
Since February 2013, RIF is also empowered to recycle power supply units cards (PSU) according to Ricoh standards. After the remanufacturing, these parts are also sent to ESPC for resale.
The repair and recycling of printed circuit boards are also based on the Ricoh Comet CircleTM to enhance the performance of this business.
Recycling of ink cartridges as part of the Center Maintenance Program (CMP)
Today, Ricoh's maintenance engineers who are responsible for the maintenance of devices and for the customer support make a standard replacement of the ink cartridges. However, in no way can they remove the cartridge at customer's house.
Used ink cartridges are dispatched to Ricoh Industrie France that gives them a second lease of life thanks to recycling before sending them back to the normal flow of maintenance program.
RIF contributes to the United Nations Sustainable Development Goals (SDGs) 7, 12, 13 and 17.

| | |
| --- | --- |
| | Since we use green electricity. |
| | For our responsible production. |
| | |
| --- | --- |
| | Because our activities save C02 emission compared to a new product. |
| | Because we have partnerships throughout Europe for the collection and sale of these products. |