D110A by Ricoh: New graphic identity for an enhanced protection
14/12/2016

Ultra-resistant to the most aggressive treatments as stonewashing or dry-cleaning, D110A is the premium ribbon you need for your daily thermal printings.

In order to protect this product and to guarantee its highest quality, Ricoh Industrie France has decided to register the new graphic identity of the ribbon. From now on, to authenticate a genuine D110A ribbon, you will find a specific graphic design on these part of the product: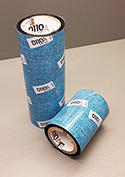 - Leader tape
- Core
- Product label
As a result, you are certain to acquire a genuine product of constant quality. You will also have access to technical, administrative and business supports, composed of available and reactive experts.
Do not hesitate to consult our specific page or to contact us for any query.