Find out how Ricoh is striving to reach the Sustainable Development Goals
20/03/2019
More than 2 years after the UN devised the new global roadmap in the form of 17 Sustainable Development Goals (SDGs), the Ricoh Group has been actively involved in attaining the SDGs. This involvement demonstrates how significantly the concept of corporate social responsibility (CSR) has evolved.
Ricoh's embrace of the SDGs clearly demonstrates its full commitment to going above and beyond its basic level of responsibility. Thanks to its robust CSR culture, the Group has set priority goals that perfectly illustrate its current concerns. Indeed, Ricoh has selected the 8 goals that are the most important and meaningful ones for its business activities. Ricoh thus recognises the relevance of the selected SDGs as it orients its overall corporate strategy. The company is committed to addressing the crucial challenges in which stakeholder expectations are growing: environmental protection, decent work, reduction of inequalities, and more.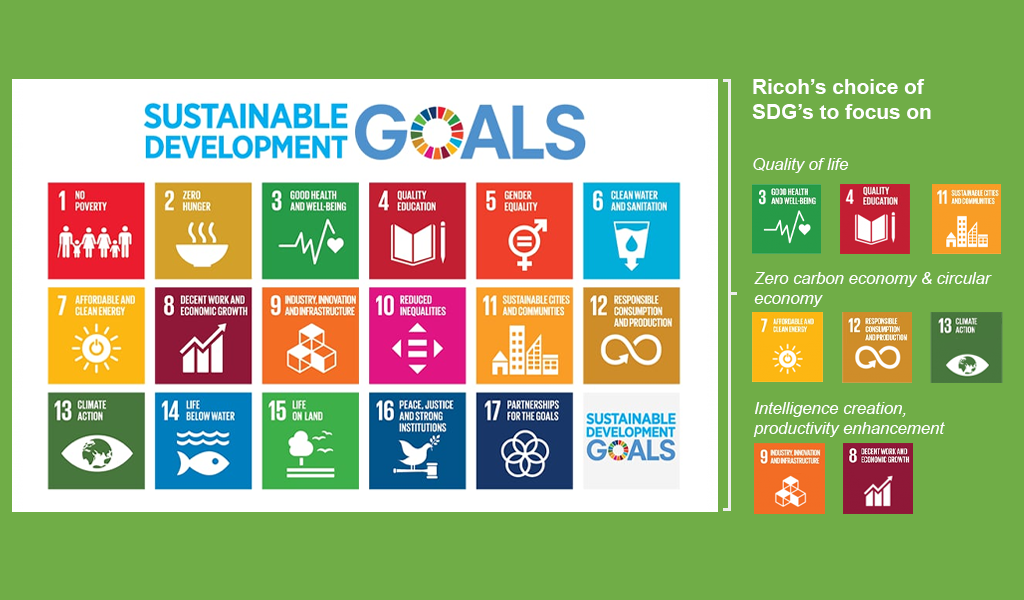 Each chosen SDG is associated with an action plan that will be used to assess Ricoh's contribution to the global goals. All of these social issues are incorporated into the Group's activities for the 19th three-year management plan (March 2017 to April 2020).
Importantly, Ricoh is also the first Japanese company to join the

group, a collaborative, global initiative uniting more than one hundred of the world's most influential companies, committed to 100% renewable power. As part of this initiative, Ricoh has committed to cutting its CO² emissions 30% by 2030 and 100% by 2050. Its vast plan to use electricity from renewable sources should enable the company to meet this target well before the deadline. Ultimately, the goal is to be carbon-neutral by 2050.
Discover the actions carried out by RIF


- Energy management system


- ISO 50001 Certification

Illustration of action carried out by RIF:
Canteen's bio-waste used for methanization

- Recirculating resources through the circular economy model at the core of our business development strategy


- Ricoh Comet Circle


- Biodiversity conservation in line with 3Ps: People, Planet, Prosperity


- Green procurement policy


- Charter for fair and responsible relationships with suppliers

- Equality agreement and non-discrimination policy and procedures

- Inclusion policy


- Ricoh Way principles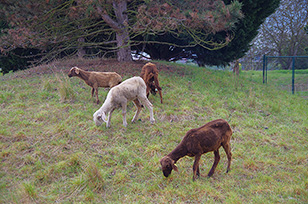 Ecopasture

- New wellbeing activities launching for mental, social and physical health

- Work life quality initiatives

- Act on Safety mindset and change behaviours

- Partnerships with local schools

- Intergenerational action plan

- Development of solidarity partnerships in connection with recycling activities

Massages


Eureka challenge


Memories garden


Donation of equipment to the Lazare Schwendi High School
In November 2018, for the 4th year in a row, the Ricoh Group was awarded the Gold certification for all of the sustainable actions it has carried out to attain the SDGs initiated by the United Nations.